Welcome to the fifth edition of "Three Things," an update on three important happenings in the School District of Waukesha for the coming week. For the week of August 7, we're covering School Busing, District Board Meetings, and Dual Language Class Sizes. As always, if you have a suggestion for an upcoming Three Things, please message us.
On to this week's Three Things: 
School Busing

: Last week SDW announced that information will be released regarding student busing to all eligible families on

August 18

. This information will be available in Infinite Campus. If you are unfamiliar with Infinite Campus, you can login to your student's profile

here

. Please note the link to Infinite Campus changed this summer so make sure you are using the

correct link

. If there are issues or questions about your child's bus route after being posted on August 18, you can contact the transportation office at

262-970-1150

.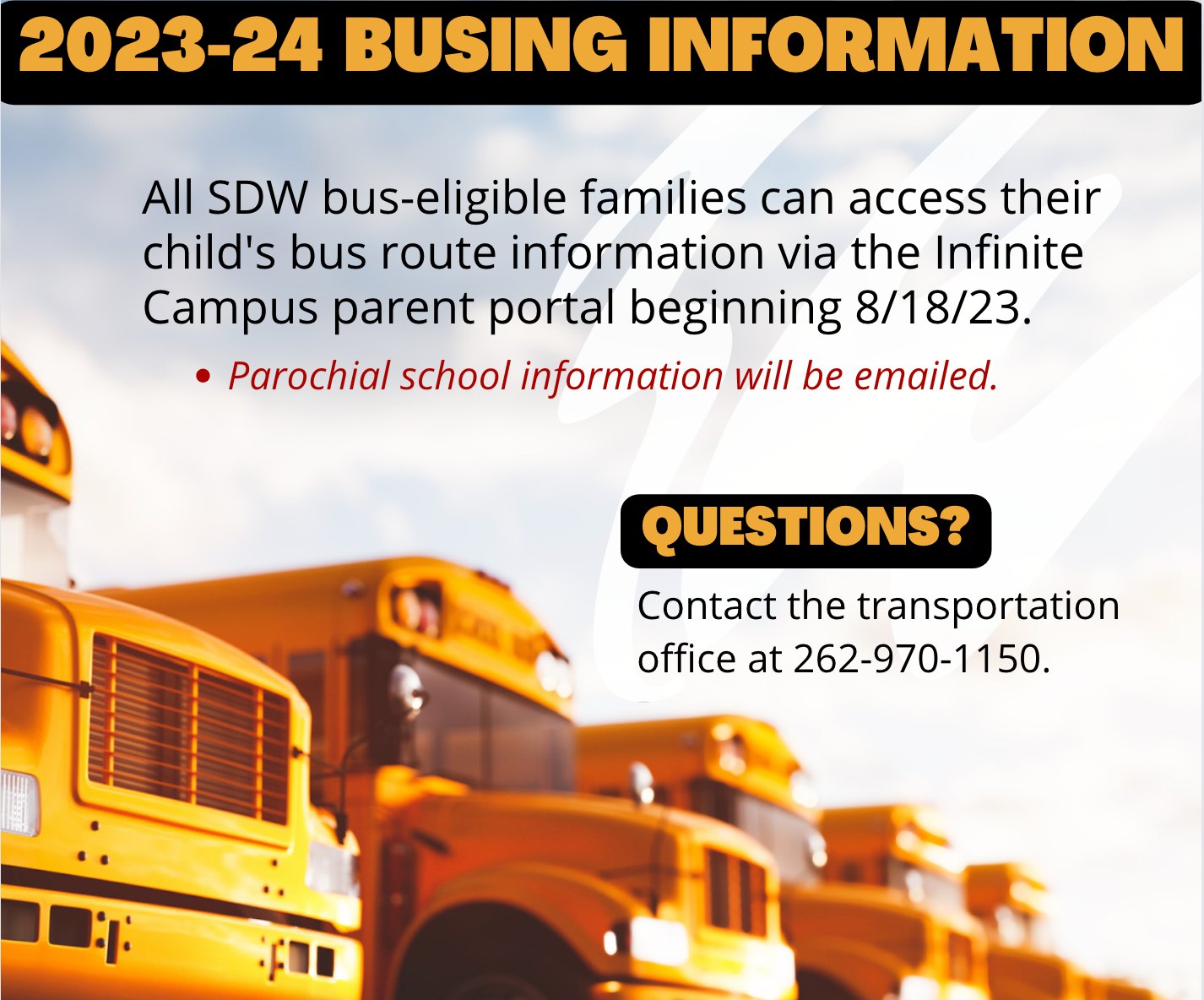 2. School Board Meetings: There are multiple meetings that parents and other community members will want to give attention to this week, including the monthly full Board Meeting on Wednesday, August 9 at 7pm at the administrative offices on Hyde Park Avenue. 
In addition, other committee meetings this week include both Finance & Facilities and Policy & Government Relations on Monday, Student Services and Teaching & Learning on Tuesday, and Human Resources & Compensation on Wednesday. All meetings can be attended in person at the district offices (301 Hyde Park Ave, Waukesha, WI 53188), or online on the district's YouTube Channel.
You can find the full schedule of board meetings as well as the meeting agendas on BoardDocs. We encourage you to look over the agendas, and if you have thoughts about any of the topics the board will be discussing, consider speaking at the relevant meeting or sending an email to the board. You can also copy Sue Ettinger and request printed copies of your email be provided in the board's packet and entered into public record.

3. Dual Language Class Sizes: Last week SDW sent an email to some parents of students enrolled in the Dual Language program at Hawthorne, Heyer, and Bethesda, informing them of a shortage of dual language teachers and a corresponding increase in class sizes. (To read the email, click on the thumbnail to the right). SDW claims that this shortage is both a "national and regional problem." While the pandemic and a growing attack on the teaching profession by politically-motivated groups and individuals have certainly impacted the number of available teachers, the Alliance continues to firmly believe SDW's alarming number of open positions and staff departures is also a self-inflicted problem. Regarding Dual Language specifically, the Alliance has fears that current district leadership may intend to eventually shutter the Dual Language program, using the district's inability to hire qualified teachers as an excuse. 
In the immediate term, however, we are most concerned about the ripple effects these large classes will have on the schools impacted. Overfilled classes, regardless of whether it's your child's or someone else's class, will impact the entire school. Coaches, aides, and teaching assistants will all be pulled to help with the classes that have more need, which will ultimately impact the other classes in the school. Additionally, if those specialists are being pulled in to help with extra large classes, what happens to all the students who are supposed to have 1:1 help with them? Caseloads are very full. How does the district intend for this to work? All families in these schools should be made aware so they can make decisions regarding their children's educational needs.

Furthermore, many students with IEPs and 504 plans have sensory processing challenges. Teachers can do their very best to reduce distractions and provide accommodations, but their ability to do so depends on the number of students occupying their classrooms. 
Though the lack of bilingual teachers and resulting large class sizes immediately impacts Dual Language classes the most, the inability to retain and hire a sufficient number of teachers is a universal issue affecting all educators, students and families in the district. Looking forward, the Alliance will seek ways to address these concerns and we encourage all district families to continue voicing their concerns and asking questions of district administration.
If you have concerns about this change to the Dual Language program and the district's inability to find qualified and experienced teachers to fill open positions, we encourage you to speak at Wednesday's board meeting, as well as to email Superintendent Jim Sebert at jsebert@waukesha.k12.wi.us or Dual Language program coordinator D. Garcia at dmgarcia@waukesha.k12.wi.us.
Bienvenidos a la quinta edición de "Tres cosas", una actualización sobre tres acontecimientos importantes en el Distrito Escolar de Waukesha para la próxima semana. Para la semana del 7 de agosto, estamos cubriendo el transporte escolar, las reuniones de la Junta del Distrito y el tamaño de las clases bilingües. Si tiene una sugerencia para las próximas Tres Cosas, envíenos un mensaje.
Pasando a las tres cosas de esta semana:
Autobús escolar: La semana pasada, SDW anunció que se dará a conocer información sobre el transporte estudiantil a todas las familias elegibles el 18 de agosto. Esta información estará disponible en Infinite Campus. Si no está familiarizado con Infinite Campus, puede iniciar sesión en el perfil de su estudiante aquí. Tenga en cuenta que el enlace a Infinite Campus cambió este verano, así que asegúrese de estar utilizando el enlace correcto. Si hay problemas o preguntas sobre la ruta del autobús de su hijo después de haber sido publicado el 18 de agosto, puede comunicarse con la oficina de transporte al 262-970-1150.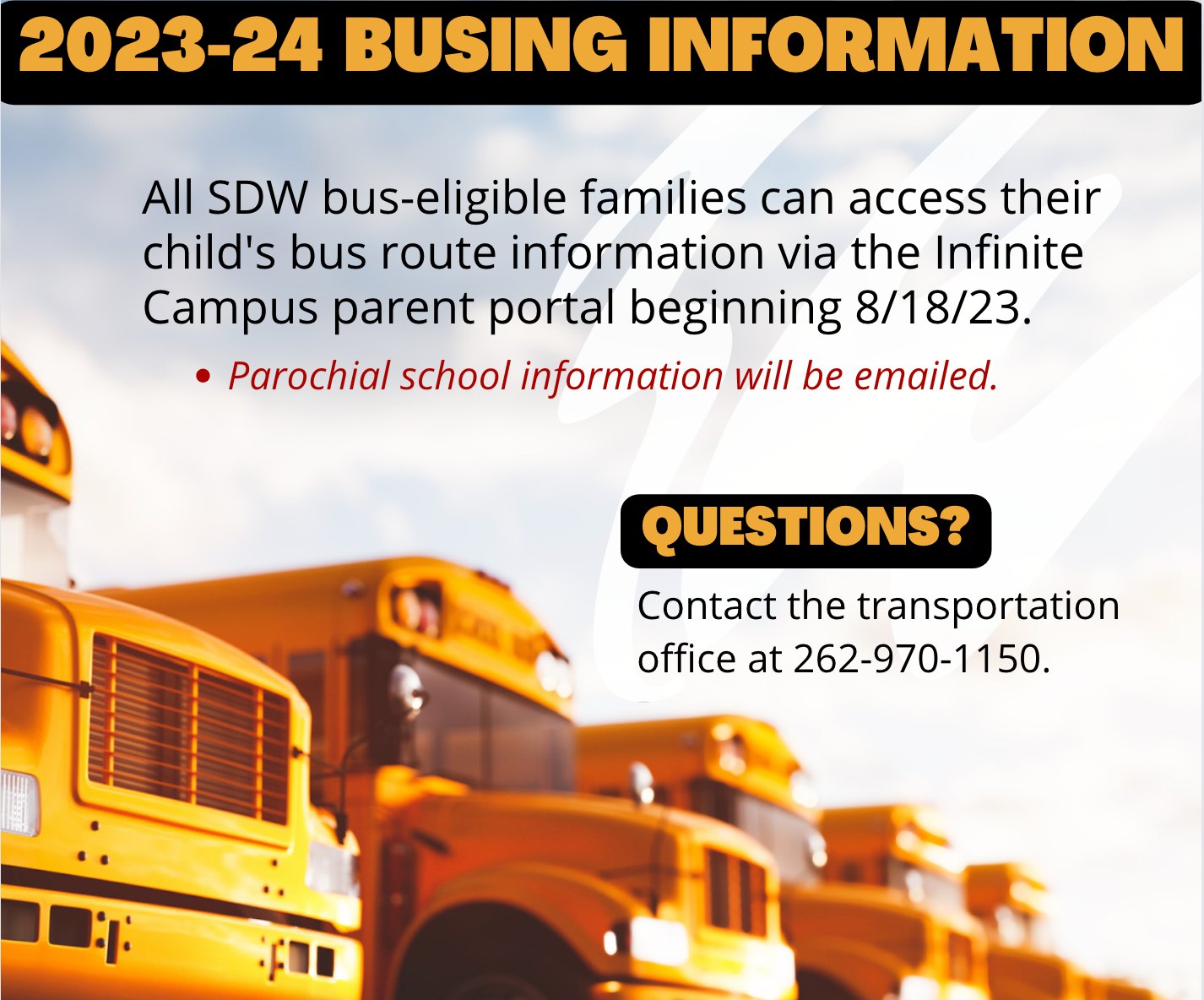 2. Reuniones de la Junta Escolar: Hay varias reuniones a las que los padres y otros miembros de la comunidad querrán prestar atención esta semana, incluida la reunión mensual completa de la Junta el miércoles 9 de agosto a las 7 pm en las oficinas administrativas en Hyde Park Avenue.
Además, otras reuniones del comité esta semana incluyen Finanzas e Instalaciones y Políticas y Relaciones Gubernamentales el lunes, Servicios Estudiantiles y Enseñanza y Aprendizaje el martes, y Recursos Humanos y Compensación el miércoles. Todas las reuniones se pueden asistir en persona en las oficinas del distrito (301 Hyde Park Ave, Waukesha, WI 53188), o en línea en el canal de YouTube del distrito.
Puede encontrar el calendario completo de las reuniones de la junta, así como las agendas de las reuniones en BoardDocs. Le recomendamos que revise las agendas, y si tiene ideas sobre cualquiera de los temas que la junta discutirá, considere hablar en la reunión relevante o enviar un correo electrónico a la junta. También puede copiar a Sue Ettinger y solicitar que se proporcionen copias impresas de su correo electrónico en el paquete de la junta y se ingresen en el registro público.
3. Tamaño de las clases de lenguaje dual: La semana pasada, SDW envió un correo electrónico a algunos padres de estudiantes inscritos en el programa de lenguaje dual en Hawthorne, Heyer y Bethesda, informándoles de la escasez de maestros de dos idiomas y un aumento correspondiente en el tamaño de las clases. (Para leer el correo electrónico, haga clic en la miniatura a la derecha). SDW afirma que esta escasez es un "problema nacional y regional". Si bien la pandemia y un creciente ataque a la profesión docente por parte de grupos e individuos con motivaciones políticas ciertamente han afectado el número de docentes disponibles, la Alianza sigue creyendo firmemente que el alarmante número de puestos vacantes y salidas de personal de SDW también es un problema autoinfligido. Con respecto al lenguaje dual específicamente, la Alianza teme que el liderazgo actual del distrito tenga la intención de cerrar eventualmente el programa de lenguaje dual, utilizando la incapacidad del distrito para contratar maestros calificados como excusa. 
En el plazo inmediato, sin embargo, estamos más preocupados por los efectos dominó que estas clases grandes tendrán en las escuelas afectadas. Las clases saturadas, independientemente de si es la clase de su hijo o de otra persona, afectarán a toda la escuela. Los entrenadores, ayudantes y asistentes de enseñanza serán atraídos para ayudar con las clases que tienen más necesidad, lo que finalmente afectará a las otras clases de la escuela. Además, si esos especialistas están siendo atraídos para ayudar con clases extra grandes, ¿qué sucede con todos los estudiantes que se supone que tienen ayuda 1: 1 con ellos? El número de casos está muy lleno. ¿Cómo pretende el distrito que esto funcione? Todas las familias en estas escuelas deben ser conscientes para que puedan tomar decisiones con respecto a las necesidades educativas de sus hijos.
Además, muchos estudiantes con IEP y planes 504 tienen desafíos de procesamiento sensorial. Los maestros pueden hacer todo lo posible para reducir las distracciones y proporcionar adaptaciones, pero su capacidad para hacerlo depende de la cantidad de estudiantes que ocupen sus aulas.
Aunque la falta de maestros bilingües y el gran tamaño de las clases resultantes impactan inmediatamente las clases de lenguaje dual, la incapacidad de retener y contratar un número suficiente de maestros es un problema universal que afecta a todos los educadores, estudiantes y familias en el distrito. Mirando hacia el futuro, la Alianza buscará formas de abordar estas preocupaciones y alentamos a todas las familias del distrito a continuar expresando sus preocupaciones y haciendo preguntas a la administración del distrito.
Si le preocupa este cambio en el programa de lenguaje dual y la incapacidad del distrito para encontrar maestros calificados y experimentados para llenar puestos vacantes, lo alentamos a hablar en la reunión de la junta del miércoles, así como a enviar un correo electrónico al superintendente Jim Sebert en jsebert@waukesha.k12.wi.us o al coordinador del programa de lenguaje dual D. García en dmgarcia@waukesha.k12.wi.us.